Cleaning With Baking Soda and Vinegar
Baking soda and vinegar can be very handy for cleaning purposes only if you know how both of them work together. Baking soda and vinegar both possess natural cleaning properties and can be used to clean different types of surfaces containing different types of mess.
So they come very handy, and we don't have to use any of the industrial chemicals which although gets your job done but as a result also damages various parts and surfaces.
How Baking Soda and Vinegar Helps in Cleaning?
Baking soda and vinegar can be easily found in every household pantry. Using the perfect method, you can clean anything in the house that has stains on it, and if you use any of the two in excessive quantities, it can neutralize the effect of cleaning.
By mixing both vinegar and baking soda creates a carbonated reaction just like the one in cold drinks and makes a lot of bubbles. The solution made from this reaction is then used to clean all the dirty areas and stains. It also helps in loosening up the chunky masses of dirt and grime from the objects.
To have a better understanding of the science behind this reaction, we should know that baking soda is also known by its scientific name, i.e. sodium carbonate is a base on the PH scale, so it means it tends to lose protons.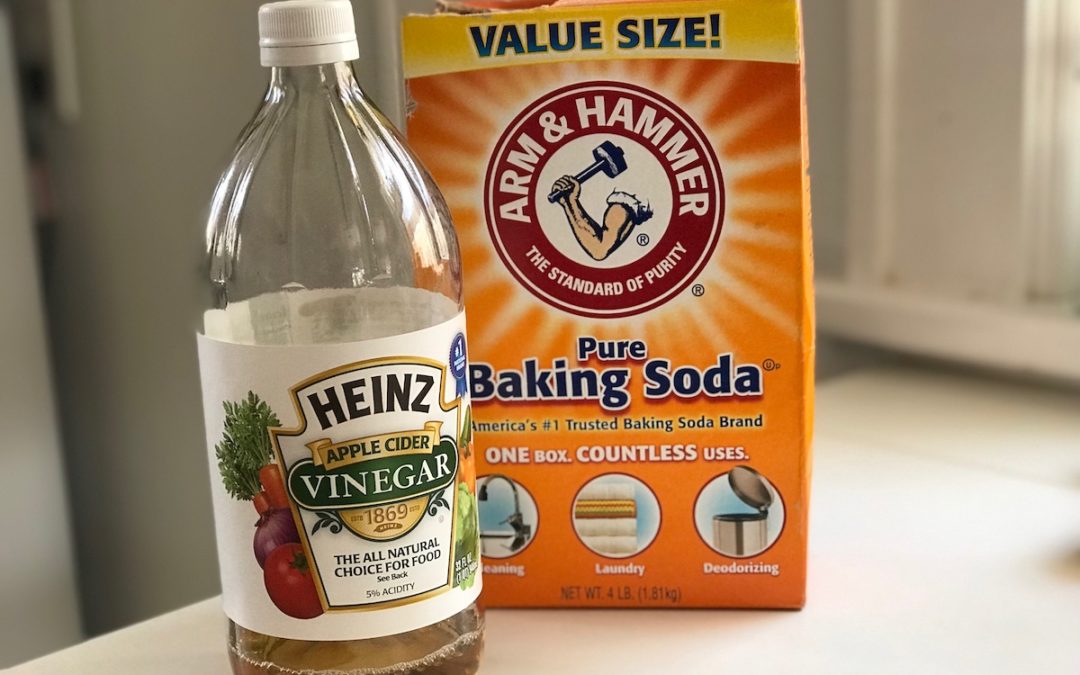 On the other hand, vinegar is an acid on the PH scale. It has a tendency to gain protons, so when they are mixed, vinegar takes up a proton from the baking soda, and carbon dioxide is produced, which is released in the form of bubbles, and only water is left behind.
So in the process where carbon dioxide bubbles are produced in that state, it helps as a cleaner and cleans up most of the stains and mess. After the carbon dioxide has evaporated and only water is left behind, the solution can no longer be used as a cleaner because carbon dioxide is the main component that helps in the cleaning.
1. Clean a Drain
Baking soda and vinegar can be used to unclog the kitchen sink drains. All you have to do is make baking soda and vinegar mixture, pour it in the drain, wait until the bubbly reaction happens, settle down, and then run a hot water tap to drain the mixture and all the junk clogged in the drain pipe.
2. Remove Hard Water Stains
Hard water is the type of water that contains a high amount of minerals, and the stains left by hard water are very stubborn and are not easy to get rid of. To remove these stains, we need to take a piece of cloth soaked in vinegar and place it over the place of stain. 
After some time, scrub the stained area with the mixture of baking soda paste and after scrubbing the area with the mixture, rinse it with the vinegar again. The hard water stains will be gone.
3. Remove Carpet Stains
Baking soda and vinegar mixture can also be used to remove carpet stains. Carpet stains are considered the most stubborn and are not easy to remove. If you accidentally spilled some juice or drink on the carpet, don't get worried; just make a paste of baking soda with a small amount of vinegar and treat the area of stains with your fingers. Let this paste dry out overnight and clean it the next day.
4. Cleaning Pots and Pans
Food residue is often stuck on the pots or pans, which are not easy to remove and require a lot of hard work, but it can be made easy by just applying the mixture of baking soda and vinegar on dry pots or pans and then scrubbing it with the sponge. The mixture loosens up the residue hence makes it easy to remove.
Allow Made4u To Do The Cleaning For You!
We have trained professionals who know how to clean your house with baking soda and vinegar. You can also contact us for disinfecting and aircond cleaning services! Not only that, if you need help with your furniture, we also offer upholstery cleaning as well.